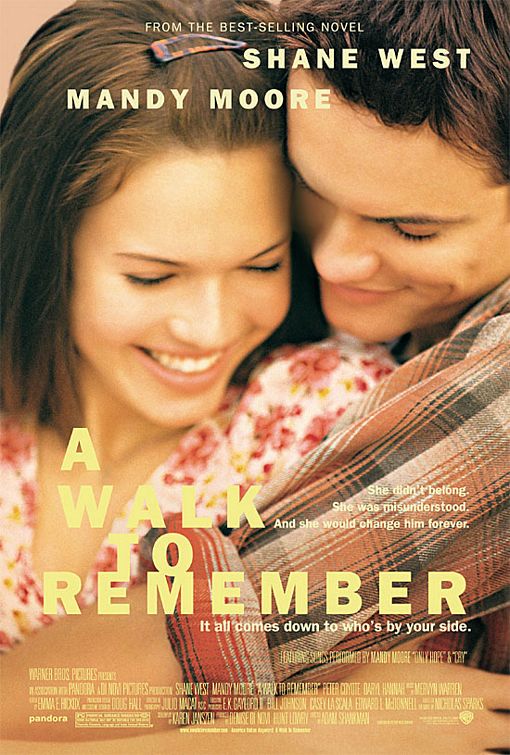 Žanr: Romantična drama
Trajanje: 101min
Režija: Adam Shankman
Po romanu: A Walk To Remember by Nicholas Sparks
Uloge: Shane West,Mandy Moore,Peter Coyote,Daryl Hannah
Jamie je poslednja osoba u koju bi se Landon zaljubio. Ozbiljna i konzervativna,bila je daleko od onoga
što on misli da je kul,ali je nije bilo briga. Ćerka,glavnog sveštenika u gradu,Jamie nije bilo strah da pokaže
da joj je vera najvažnija stvar u životu,iako je to košta par prijatelja. Landon se druži sa besciljnim,neraspoloženim,
nemarnim društvom koje je popularno u školi po izgledu i razmetanju hrabrosti. Nije imao nikakvih planova,nikakvu
budućnost i nikakvu veru u sebe.
Jedne noći,igra njegovog društva i njega krene po zlu zbog čega dečko iz škole završi u bolnici. Za kaznu Landon mora
da podučava učenike u obližnjoj školi i da učestvuje u prolećnoj dramskoj predstavi,a direktor se nada da će ga to naučiti
ponašanju i ljudskosti. Njegova kazna takođe ga je dovela u bliži kontakt sa Jamie Sullivan. Pretrpan obavezama Landon
moli Jamie da mu pomogne sa predstavom. Uskoro,iznad njegovih očekivanja,Landon se zaljubljuje u ovu na izgled običnu devojku koja ima ogromnu strast za životom koju nije mogao ni da predpostavi. Ali nije lako. Jamie na sve načine pokušava da pobegne od ove romanse dok to ne postane ne moguće da se porekne.
Njihova veza testiraće njihova verovanja. Najvažnije testiraće njihovu snagu ljubavi i verovanja koja će sve promeniti u nešto vredno života.
Poslednji izmenio Robert's Honey dana Ned Avg 01, 2010 9:56 pm, izmenjeno ukupno 1 puta
_________________
"No matter how ugly the world gets or how stupid it shows me it is,
I always have faith"
Predlažem ti da ga pogledaš
Mnogo je dobar film i sigurna sam da će ti se dopasti:)
Gledala. Film je prelep. <3

l.a.m.b.

Edward i ti ste se poljubili





Posts

: 319


Age

: 27


Location

: Highway To Hell



preubav film mnogu zalen no vredi da se izgleda

sandra_8

Preselila si se u Forks





Posts

: 40



Similar topics
---
Dozvole ovog foruma:
Ne možete
odgovarati na teme u ovom forumu